FULL SERVICE OPEN GYM
Bayshore Fit is a full-service open gym that is the perfect destination for those who want complete flexibility to workout when it's best for them.

COLD PLUNGE
Experience the ultimate in recovery with our Cold Plunge. Immerse yourself and feel the invigorating effects as it reduces inflammation, increases circulation, and speeds up muscle recovery. The perfect addition to your fitness and recovery routine that will leave you feeling refreshed and revitalized.

INFRARED SAUNA
Rest, recover and rejuvenate with our infrared sauna. Benefits include weight loss, improved sleep and circulation, clear skin, sore muscle and joint pain relief and toxin removal.

GROUP FITNESS
Geared toward functional training and modified to all fitness levels, our group classes improve cardio endurance, strength, flexibility and weight management. With over 35 classes offered each week, there's more than one way to reach your fitness goals.

PERSONAL TRAINING
We offer a complimentary fitness assessment and reevaluation for our expert trainers to create a customized workout that matches your personality and goals. Whether one-on-one or group training, we're here to deliver results

RECOVERY ROOM
The ultimate recovery experience complete with Normatec pants, hypervolt guns, and more! Relax and recover faster, increase circulation, reduce inflammation, remove toxins, increase range of motion and flexibility.

OUTDOOR TURF AREA
Sweat more with over 3,000 sq feet of outdoor turf, complete with high-quality equipment to reach your goals, including galvanized Eleiko rigs, sleds, tires, battle ropes and more.

INDOOR TURF AREA
Train harder on our indoor turf surface and build endurance, speed, agility, strength, power, and coordination with high-impact exercises, including sprints, sled pushes, functional training, and more.

PELOTON INDOOR CYCLES
Hop on one of our bikes and escape from the world with a virtual Peloton class. Choose from thousands of classes and complete them on your own time and at your own pace. Benefits include weight loss, increased strength, improved cardiovascular health, joint mobility and endurance.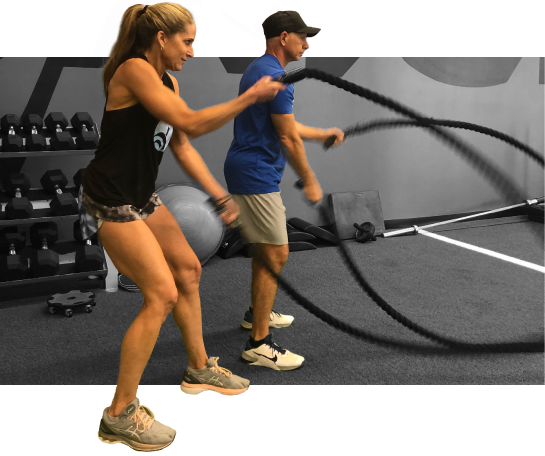 LOCALLY OWNED AND OPERATED
By Beth Scanlan and Jeff Fink, Bayshore Fit is brought to life with a dedication to providing the ultimate gym experience to the community of Tampa Bay. Having worked in fitness and nutrition for over twenty years, they've combined the very best qualities of a gym to help clients achieve optimum health in a space where people of all ages and fitness levels feel comfortable reaching their goals.

We take Tampa fitness to a whole new level. Founded on community, quality and expertise, we provide the top tools to receive the best results—our space invites people to gather together, train hard and be known by name.