Bayshore Fit is the vision of owners Beth Scanlan and Jeff Fink. For them, it is more than a gym in Tampa; it is a passion and a lifestyle.
Beth and Jeff have dedicated their lives to fitness, nutrition, teaching, training and healthy living. They have competed in marathons, bodybuilding and fitness competitions around the country. They have trained people on every level, from professional athletes to everyday clients of all ages. It's their life. It's what they love to do.
At Bayshore Fit they have brought together all their favorite things from gyms where they've trained – no long-term contracts, a friendly vibe, the very best equipment, real expert training, group fitness/boot camp classes and a relaxed and unintimidating environment.
LIMITED MEMBERSHIP, NO CROWDS
Unlike a big box gym, Bayshore Fit has a limited membership. That means you're never waiting to use the equipment. Before work, after work, or in the middle of the day, you can come in, work out at your pace and do the workout you planned to do.
WE KNOW EACH MEMBER BY NAME
Each time you arrive at Bayshore Fit you will be greeted with a smile and called by name. It's part of the Bayshore Fit experience. You're not just a client. You're a friend, and hopefully a regular visitor and member of the team. We know your name and your story. We're here to make Bayshore Fit, the perfect fit for you.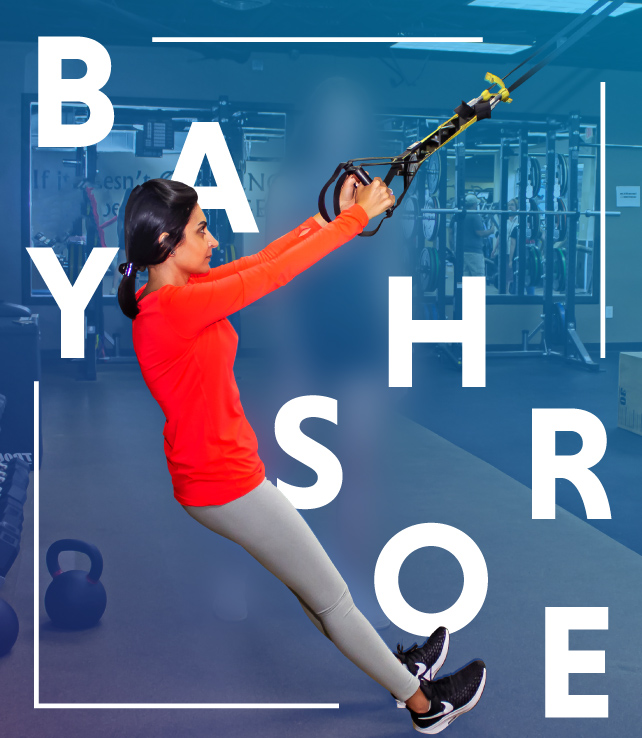 Looking to work out with a group and get a little extra push? Memberships with unlimited group fitness/boot camp classes are $89.00/month.

Peloton classes are included in the unlimited class membership. Memberships with unlimited classes are $89.00/month.

We want you to sweat…especially after a personal training workout! That's why we provide freshly laundered towels morning, noon, and night.

Coming from work or heading off to work? No problem. Keep all your stuff in a clean, secure locker, and hit the gym.

Clean private showers and freshly laundered towels. Available after a workout, or if there's no hot water at home!

Once you're feeling fit, perhaps a little Bayshore Fit swag to show off your new style? Wear the colors and be proud. You're now part of the Bayshore Fit Team.

Nutrition is an important part of fitness, so we search for the supplements that we think are best and make them available to our members. Of course, our staff is educated on nutrition and available to help.