DISCOVER A NEW FACET OF RELAXATION
THE INFRARED SAUNA EXPERIENCE AT BAYSHORE FIT IN TAMPA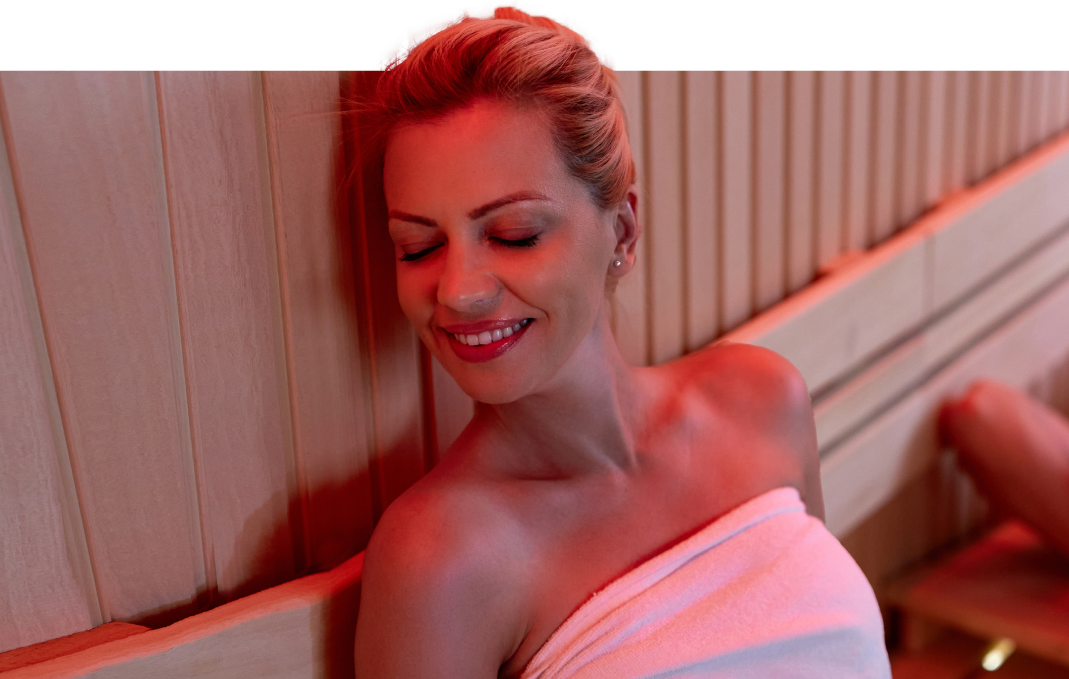 If you're in search of "gyms with infrared saunas near me", your quest ends here at Bayshore Fit.

Our all-inclusive Tampa gym proudly offers state-of-the-art infrared saunas, enriching your pursuit of a healthier lifestyle. Experience calming infrared heat that boosts circulation, reduces stress, supports weight loss, aids detoxification and more.
Easily incorporate infrared sauna sessions post-workout or within your regular exercise routine for improved fitness results at our gym. Step into the soothing warmth and discover a new facet of relaxation that complements your fitness journey.

PHYSICAL HEALTH
Detoxification and Revitalization
Infrared heat gently encourages detox through sweat, leaving you refreshed and supporting your body' natural cleansing process.
Enhanced Circulation and Recovery
Boost blood flow for muscle relief, tension reduction, and post-workout recovery, helping deliver essential nutrients and oxygen to muscles and aiding in their repair.
Pain Relief and Stress Soothing
Step into calming warmth to alleviate discomfort and promote relaxation, helping to ease muscle soreness.
Weight Loss Support
Aid your weight loss journey with infrared sauna's benefits that can help accelerate metabolism and burn calories.

MENTAL WELL-BEING
Reduce Stress
Relieve stress through infrared sauna's relaxing effects, allowing your mind to unwind and find respite from daily pressures.
Elevate Mood
Enjoy a mood lift from the sauna's soothing warmth, triggering the release of feel-good hormones that contribute to a brighter outlook.
Better Sleep
Enhance sleep quality through relaxation and stress reduction, helping you achieve deeper and more restful sleep patterns.

RELAXATION & RECOVERY
Relieve Muscle Tension
Calming effects of the infrared sauna provide muscle relief, alleviating tightness and discomfort for a more relaxed body.
Accelerate Recovery
Boosted blood flow speeds up post-exercise recovery, delivering nutrients to muscles and aiding in repair for a quicker rebound.
Calming Ritual
Immerse yourself in a relaxation ritual, using the infrared sauna as a sanctuary to detach from daily stressors and engage in self-care.
CARDIOVASCULAR WELLNESS
Heart Health Support
Infrared sauna promotes cardiovascular wellness by stimulating blood flow and enhancing heart function, contributing to overall heart health.
Blood Pressure Regulation
Potential for improved blood pressure control as the infrared sauna's heat promotes dilation of blood vessels, aiding in blood pressure management.
Endothelial Function Boost
Support your body's endothelial function through infrared sauna sessions, which may lead to improved vessel health and better blood flow regulation.
YOUR WELLNESS
JOURNEY STARTS HERE
Start your journey to improved well-being by becoming a Bayshore Fit member. Enjoy the benefits of our infrared sauna – the perfect addition to your fitness routine!
Start your journey to improved well-being by becoming a Bayshore Fit member. Enjoy the benefits of our infrared sauna – the perfect addition to your fitness routine!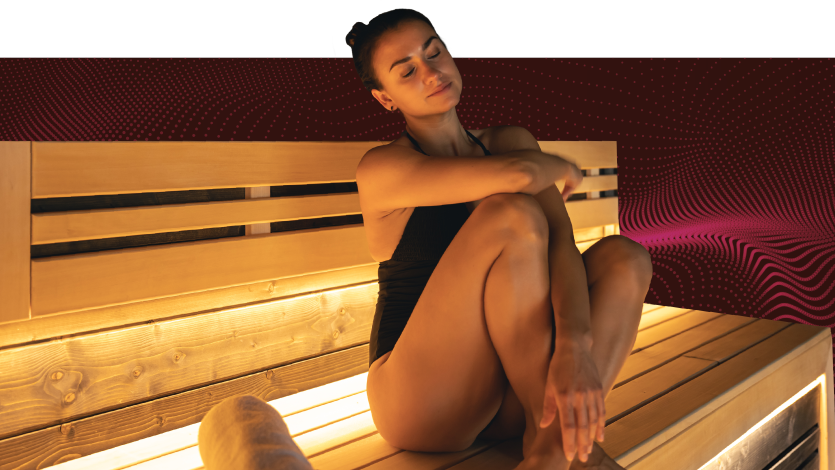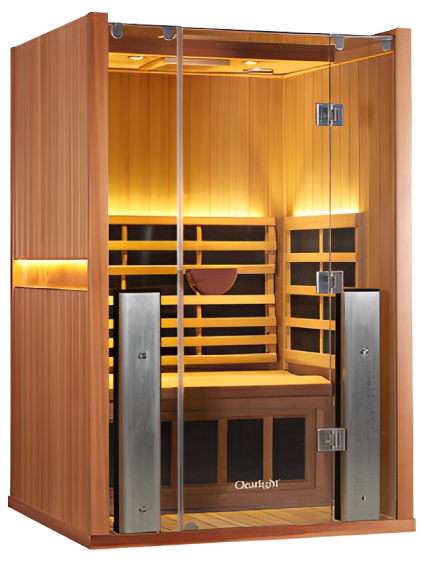 WHAT IS AN INFRARED SAUNA?
Unlike traditional saunas, our infrared sauna employs near, mid, and far infrared light waves that penetrate deep within your body. This targeted approach not only initiates sweat for effective detoxification but also aids in the breakdown of toxins. A safe and non-invasive technique, it reaches deep skin layers without harm, offering relief from pain and inflammation.
SCIENCE-BACKED
EXPERT INSIGHTS
Infrared saunas are attracting attention for their potential benefits to cardiovascular health. Research indicates that sessions in an infrared sauna could positively influence heart health by lowering blood pressure and improving blood vessel function. These positive effects stem from the rise in body temperature, the widening of blood vessels, and the overall enhancement of circulation.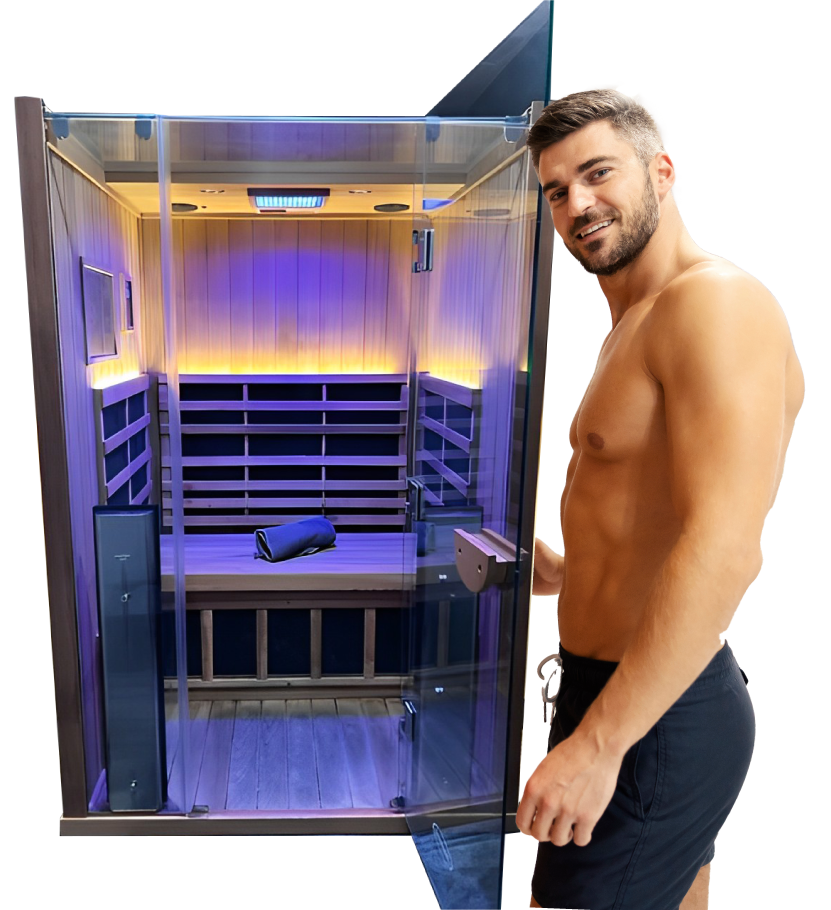 Our dedicated 1-2 person units provide privacy as you experience the soothing warmth of the infrared sauna. Attire such as a swimsuit, sports bra, or shorts is recommended for your comfort. Throughout your session, let the infrared waves work their magic, igniting detoxification and relaxation. Afterward, ensure comfort by either towel-drying or bringing a change of clothes, as sweating may continue for about 30 minutes. Remember to stay hydrated, listen to your body, and relish the tailored, health-boosting encounter that awaits you at Bayshore Fit.

IS AN INFRARED SAUNA SESSION BETTER BEFORE OR AFTER A WORKOUT?
The timing of an infrared sauna session – whether before or after a workout – largely depends on your goals and preferences. Incorporating a session before your workout can be beneficial as it helps warm up your muscles, enhances flexibility, and gets your body ready for physical activity. On the other hand, using the infrared sauna after your workout can aid in muscle recovery, alleviate post-exercise soreness, and promote relaxation. Both approaches offer unique benefits, so feel free to experiment and find what works best for you.

HOW LONG IS A SESSION?
Sessions typically range from 15 to 30 minutes, allowing you to tailor your experience to your needs. It's advisable to start your infrared sauna experience with a shorter time frame, gradually increasing the duration over subsequent sessions. This allows your body to acclimate to the heat and the process of detoxification.

WHEN TO AVOID THE INFRARED SAUNA?
Your safety is our priority. If you're pregnant, have cardiovascular issues, or are sensitive to heat, it's best to consult a healthcare professional before embracing our infrared sauna experience.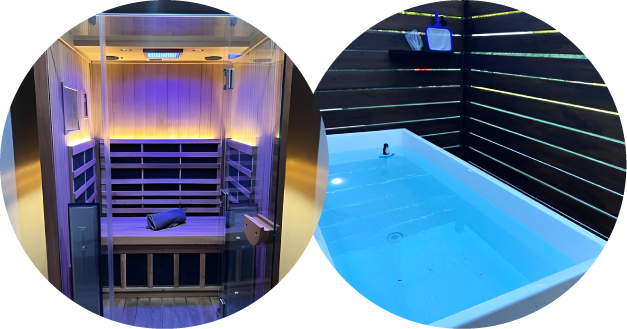 COMBO IT WITH COLD PLUNGE!
Pairing the soothing warmth of an infrared sauna with the coolness of a cold plunge creates a dynamic wellness duo. The infrared sauna gently promotes relaxation, detoxification, and improved circulation, while the cold plunge provides a refreshing jolt that stimulates blood flow and boosts vitality. It's like a wake-up call for your whole system, and it helps you feel great from the inside out. Try the combo and feel the difference!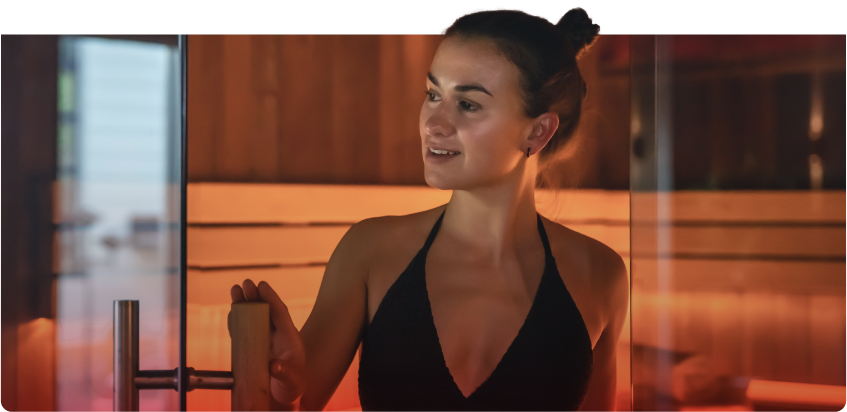 READY TO EMBRACE THE WARMTH?
UNLOCK TOTAL WELLNESS WITH BAYSHORE FITS ALL-INCLUSIVE MEMBERSHIP
Experience the full spectrum of benefits with our all-inclusive gym membership at Bayshore Fit – the best deal in South Tampa. Enjoy unlimited access to our infrared sauna and cold plunge, along with unlimited access to our group fitness classes, recovery room, and Peloton. Complement your fitness recovery regimen with these dual therapies, making every visit to Bayshore Fit a holistic experience tailored to your total wellness.